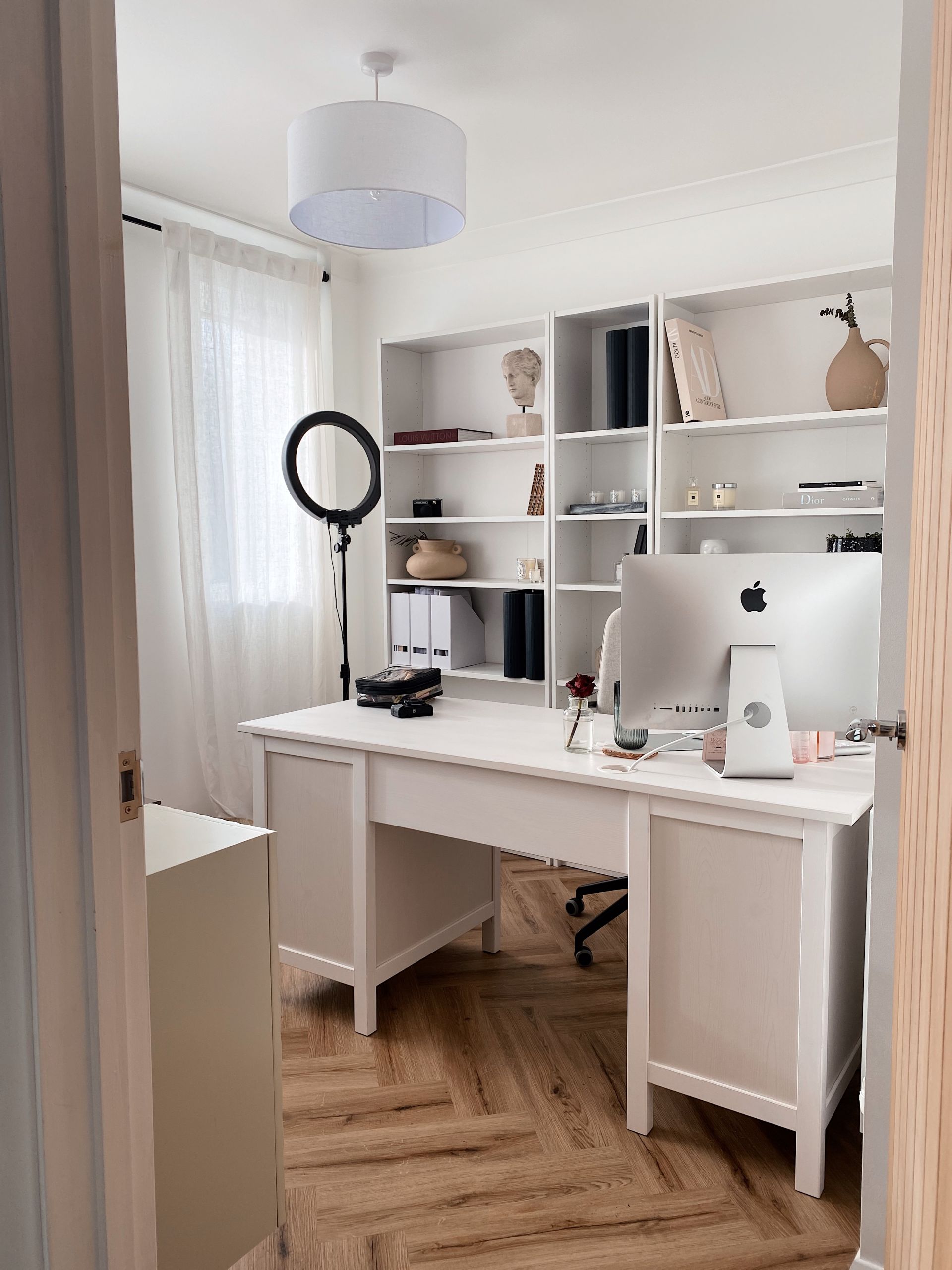 Turning a small spare bedroom in to a dreamy home office
After the year that was 2020 I know so many of us (who once dreamed of the alluring WFH status) are now sick of this subject. But with so many of us jumping on to the property ladder, or taking the opportunity to upscale, I thought I'd turn our attention today to one of my favourite rooms in the house. My home office. This is how I turned my small guest bedroom in to a white, modern, calm, dreamy home office space... aside from the flooring it's a real DIY job too!
THE ILLUSION OF SPACE:
With a space this small you can either do your best to give the illusion of space, or run with the cosy cute vibes. Seeing as this is an office space, cosy was not the vibe. No time for napping over here. The walls were painted with Dulux Brilliant White (satin finish - I believe - basically anything other than matt because I can't deal with the marks and some days this room becomes a post room.) to brighten the space and the finish is not only practical but helps to throw more light around. The curtains were also positioned at the highest and widest part of the room to give the illusion of width and height and bigger windows. And the over all finish of the space was kept minimal and clear by using plenty of inbuilt or discreet box/file storage to keep the surfaces looking more spacious. To avoid things looking too empty, the shelving not only houses practical items and provides soooo much space to grow in to over time. It also gives the opportunity for a decorative pieces that can add interest, a personal touch, or even a little texture and depth to a minimalist space. Without taking up too much room.
SHOP MY SHELVES
THE COLOUR PALETTE:
To compliment the light walls, a combination of parred back neutral/earthy tones became the overarching theme for this room. With terracotta and stone accessories for texture and black accents for structure and depth. There are also a few antique look alikes which help to feed the more traditional and classic accents in this room. These combined with the stone textures also work to give a more relaxed feel to what is essentially a very "smart" looking room when you focus on the bare bones. Basically I wanted this room to say "I'm inviting and pleasing on the eye but I'm also a place to focus rather than nap." I know, it says a lot for a small room with so little in it.
WHERE I SPENT:
Aside from tech being the obvious for an office space, the flooring (though if we look at this glass half full we could also consider it a saving compared to engineered wood) was where the majority of the money went in this room. Originally there was carpet laid which just didn't work practically for an office chair to be rolling around on. The more antique/natural texture accessories were also an area I was happy to spend on when I saw the right pieces.  Though this could be an area to save if shopping at antiques fairs/car boots!
SHOP THE ESSENTIALS
WHERE I SAVED:
The majority of furniture in the room is from Ikea and this was so helpful in keeping the expenditure for this room lower. They had a desk that fitted the exact aesthetic I was looking for so it didn't make sense to go elsewhere and spend more. The chair wasn't the cheapest from ikea and it could be cuter but I wanted something comfortable and practical to ensure my back and neck were supported - though I techically went budhget for this it's 100% an area I would be happy to invest in if needed to avoid physically paying the price later down the line. Aside from these two I reused old furniture from Ikea and West Elm that no longer had a place/use elsewhere. This changed the vibe of the room slightly and I was unsure of whether i'd be happy doing this to begin with but I actually think it looks 100 x better than my original vision board. The paint though not completely budget was fairly affordable when divided by the multiple rooms it was used for and it's of course no where near top of the range paint. But it doe the job perfectly. The lighting fixture in this room was also simple and fairly affordable considering I didn't buy a whole new pendant and snazzy lamp. A simple white lampshade left the rest of the room to do the talking and dressed up the sad basic wiring and bulb that was already there with zero fuss. A saving not only in price but also electricians costs (I have a real habit of buying tricky lighting). Finally, the curtains and the fitting in this room were both Ikea and were a real save. The white linen look curtains were exactly what I wanted and at half the price you can find them on the likes of Zara Home!
Watch The Office Renovation Videos Here: