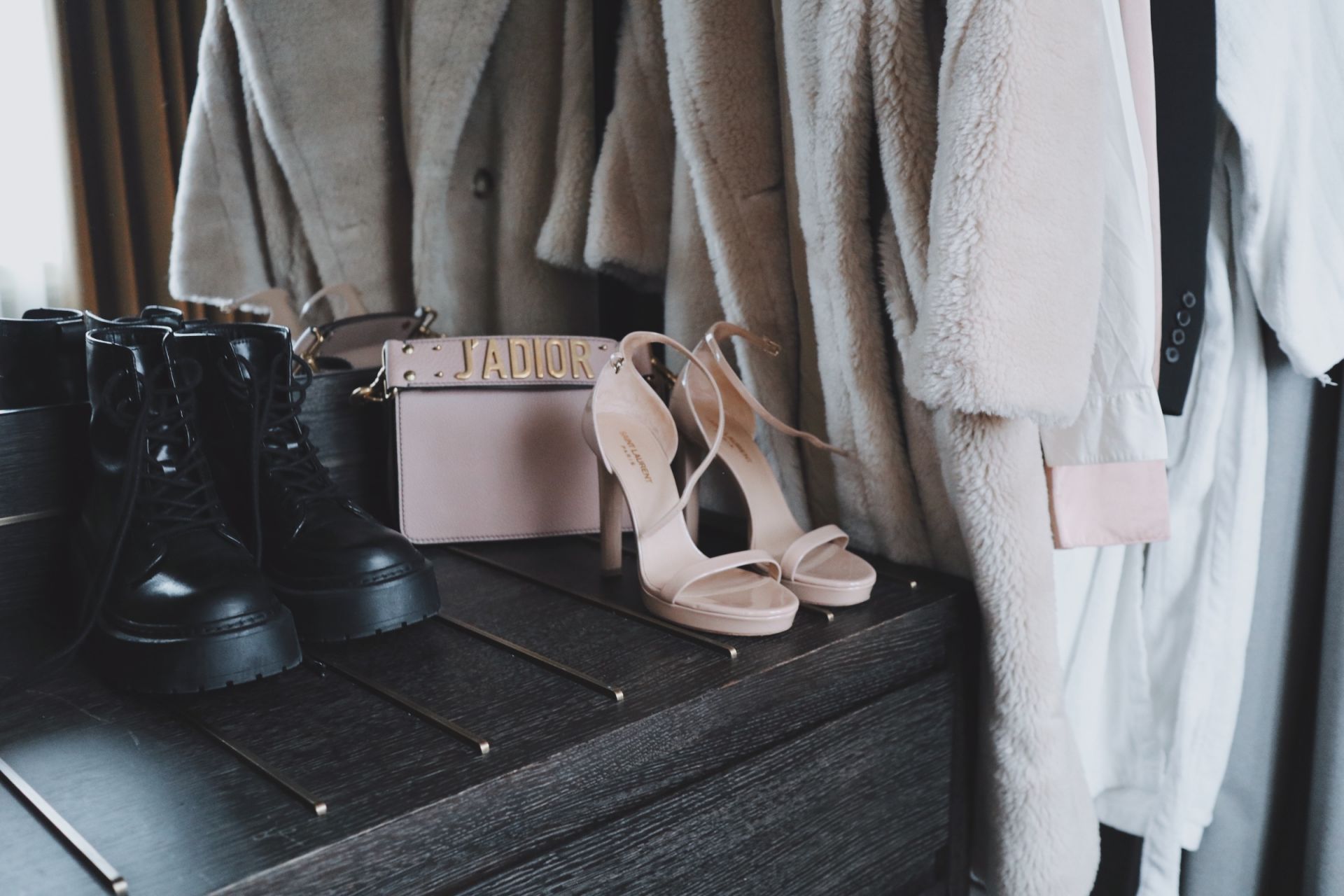 A personal stylist organised my wardrobe...
---
(in addition to how to perfectly fold jeans) here's what I learnt:
So assuming you're working with a complete wardrobe that doesn't need a declutter (if it does this post on the lazy girls guide to clearing out your wardrobe might just be what you need) then these are the essential tips and hacks I learnt when a personal stylist (a.k.a my angel of a friend, Carla Webster) organised my wardrobe:
Identical hangers where possible will unify the entire space. It's also essential regardless of hanger type or continuity to have them all facing the same way. This will immediately transform the look of your closet - I choose to have the same metals on the hooks of my hangers for each wardrobe even though my hanger type sometimes needs to differ due to the material or weight of an item. You can't always see whether it's all metal or velvet, but the top hooks looking neat and unified is essential. If you want to hang trousers but don't want to compromise on having multiple types of hangers, you can also purchase hanger clips which attach to your existing hangers! (My mind was actually blown by this!!)
Finger spacing is also essential. If you haven't worked in retail you might be thinking "WTF is finger space???" I was also in the dark about this until Carla came along. Finger spacing is basically where each of the hangers are an equal distance apart. (note: when my wardrobe was out of control it was so full this wasn't possible - something to consider if you can) It makes the world of difference to how neat and tidy the rail looks.
So that's your hanger 101 out the way... but sectioning your items is also super important...
Section things according to your style - this one will help you to outfit build and, in turn, get dressed far quicker. For example, my leather trousers are actually right next to my favourite statement T's and jackets, with my blazers sat directly above. These types of jacket are the two key things I pair with my trousers so they're all in immediate reaching distance of them. My basic jeans are sat right next to my jeans as I'm most likely to pair these together too. Your style will depend on what feels most appropriate for you. Look at the types of item you wear together the most and keep them close.
Don't block exact colours together - order roughly by tone not colour: Whilst you're sectioning you might be inclined to also sub-order by colour. Instead, first organise by sleeve length and then group tones. E.g have your neutrals to your darks but don't group exactly. If you have two white items sitting next to each other, add a cream/off white item between the two (you can see examples of this in my video below). Going by vague colour and ultimately sleeve/garment length allows everything to look organised/unified but also allows you to still see what you have. You won't loose sight of you fave white shirt amongst 5 other white tops all with the same sleeve length. Not only is this helpful, it's aesthetically pleasing and something visual merchandisers play on a lot to get your attention.
Separate your everyday items from your occasional items. Occasion wear, outerwear, loungewear and summer clothes can all live separately to your main closet. I keep most of my outerwear and my occasion wear in wardrobe 2**, with my loungewear/slobby clothes being stored above my everyday items. Summer clothes are kept in storage until I need them. This avoids me being distracted by things I might not need to be thinking about when outfit building and speeds up my outfit building each day.
The little extras...
Sleeve lengths always differ and a little unity always goes a long way, so on Carla's orders I always roll the cuffs on my long sleeved tops that hang together. This stops longer sleeves covering up the rail below and leaves it clear so I can see everything without crouching down or moving the sleeves out the way.
Scenting your closet: Diptyque often have a few solid fragrances and the Baise scent hangs in each of my wardrobe and makes my wardrobe smell lovely. They also look so chic so not only are they a treat for your nose but also your peepers too! It's a full 360 experience!
Ikea dividers are an absolute godsend for your underwear, basics, activewear - anything that goes in a drawer basically! I honestly can't imagine going back to a set of drawers where my clothes have free reign and can easily get out of control!
The best purchase I ever made: an Ikea step! If you're a little vertically challenged then this is ideal but also if you have wardrobes that stretch to your ceiling this is a must have. When I design my next set of wardrobes I'll be making use of the space by having them stretch to the ceiling so these steps are a long term essential.
There it is, a personal stylist organised my wardrobe and blew my mind with all of these tips and tricks. If you implement any of these we'd love if you would tag us both on Instagram (@hellooctober and @carlawebsterr)!
*the exception to this rule in my closet is my folded jeans - I like them in colour order because they're already easy to see anyway and the gradient is both visually pleasing but also organised AF.
** with the exception of some coats that needed to be rehoused due to Ryan needing a small portion of wardrobe space.