Skincare can be a bit of a minefield sometimes, but after spending 8 years trying and testing everything I could fit on my face (seriously, don't do that), I feel like I've finally got the "effective but not applying the entire pharmacy" routine nailed and ready to share with you!
AM
Let me tell you a story about cleansing… Once upon a time, I NEVER cleansed my face in the morning. I KNOWWW right? It's gross. It's a time in my life I don't want to dwell on too much because, quite frankly, it's a bit grim and I don't need that negativity in my life. Cleansing in the morning leaves my skin looking so fresh and prevents it becoming congested - something I'm prone to with my tiny pores and the amount of makeup I wear so regularly. I like to use something light, and the Oskia Renaissance Cleansing Gel is perfect for giving my skin a little wake up call, whilst also gently removing last nights skincare.
Once I've cleansed I like to reach for one of the many hyaluronic acids in the bathroom cupboard - my current go to is Glossier Super Bounce - though I'm definitely going to be reaching for something a little more intense as the temperature starts to drop. In the short term, this helps my skin to look plump and hydrated, but long term I also hope that this helps to delay fine lines from settling in.
I like to follow this up with a vitamin C product - my current favourite being the Clinique Fresh Pressed™ Daily Booster with Pure Vitamin C. I either mix two drops of this into my moisturiser of choice - the Kiehl's Calendula Serum- Infused Water Cream. If I'm pressed for time, the Ole Henrikson C-Rush Brightening Gel Cream does the job of both and smells SOOO good too!
Most importantly, I apply SPF. I've really gotten back into using skincare with very active ingredients so this has become a vital step in my morning routine. Acids mean the damage caused to your skin by sun exposure is much greater, and if I want to reach my goal of looking better than my mum at 55 (because WOW that woman's skin is amazing) then I need to protect my skin from sun damage at all costs. I like to mist the La Roche-Posay Anthelios Invisible Face Mist SPF50+ over my skin as a last step. I also mist this over my makeup throughout the day during the summer, as SPF is only effective for a few hours before it needs topping up.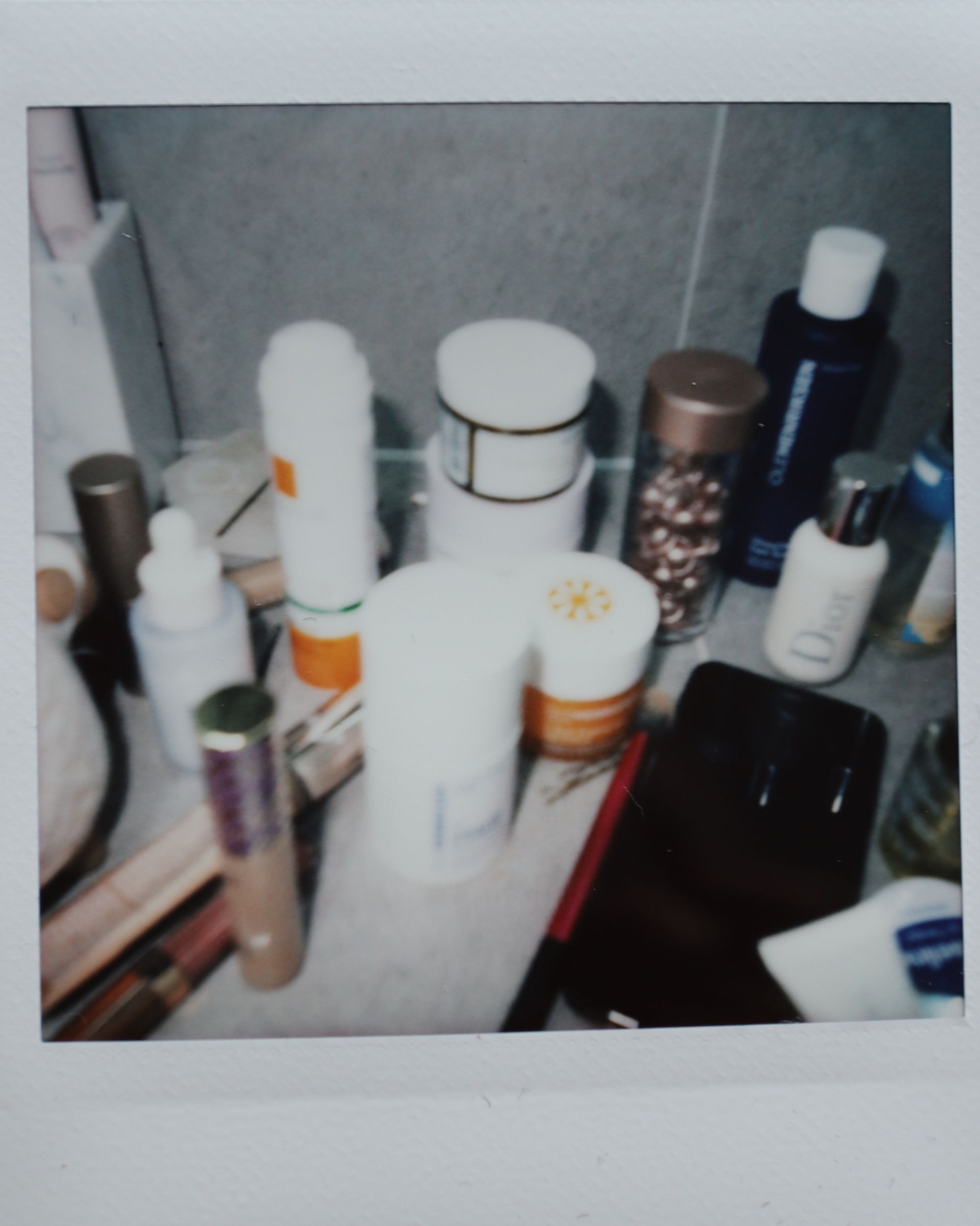 PM
Taking your makeup off at the end of the day is so bittersweet - on the one-hand we say goodbye to bad ass brows and (what was hopefully) a snatched AF eye look. But we also say hello to being able to lie on our white bedding without getting makeup on it and being able to rub our eyes. GOALS. Fortunately, the Clinique Take The Day Off Cleansing Oil makes this bittersweet moment all the more painless. This combined with my Face Halo means my makeup is off in about 60 seconds. On a particularly product heavy day, I'll do a second cleanse with my Oskia cleanser, but most days this one works wonders solo.
My evening routine continues to run with the theme of getting me from bathroom to bed in the speediest way physically possible - so things aren't too crazy post cleanse. However, I have recently added in a step - branching out into the world of retinol. And let me tell you, it's a world of smooooooth skin. I'm on board. I started using the Elizabeth Arden RETINOL Ceramide Capsules and not only are they really cute and fun to use but my skin is looking the best it's looked in a long time! Scarring has healed so quickly, I have less blemishes and congestion and the texture of my skin makes me feel like we've hit the rewind button by 5 years.
I finish up my routine with an oil that I have been using for a good three years now without fail. The Clarins Blue Orchid Treatment Oil hydrates my skin so well, prevents it from becoming dry and really helps to heal any blemishes I have. The only way this isn't used in my routine is if I need to use my Mario Badescu Drying Lotion. Then I go back to my Kiehl's moisturiser as the oil doesn't allow the drying lotion to fully settle onto my skin. That drying lotion though… Spots? WHAT SPOTS?! I dab it onto blemishes using a cotton bud and it helps to reduce the spot overnight. I'd say it's magic, but it's actually a mix of calamine, zinc, glycerin, salicylic acid and a load of other ingredients that makeup the dream team spot formula. It's GOOD. The End. I'll stop now.
Want more skincare content? Be sure to head over to my youtube channel and check that out, and let's not forget the beauty archive here on this site!