MAKING THE PERFECT GIFT EXTRA SPECIAL
*Paid advertorial with Olivia Burton
I'm not gonna lie to you here, the thought of wrapping Christmas presents literally gives me a hernia. Maybe it's the perfectionist in me, maybe it's the impatient child, who knows. I'm just not naturally good at it. But over the years I've learnt how to distract my loved ones from the complete mess that is my wrapping job and make them feel like a tonne of effort was involved in just a few simple steps. The secret: It's all about the little details that make it extra special and personal.
So if like me, you're not a gift wrapping pro, here are a few easy ways for you to take your gift and make it something even Pinterest would be proud of.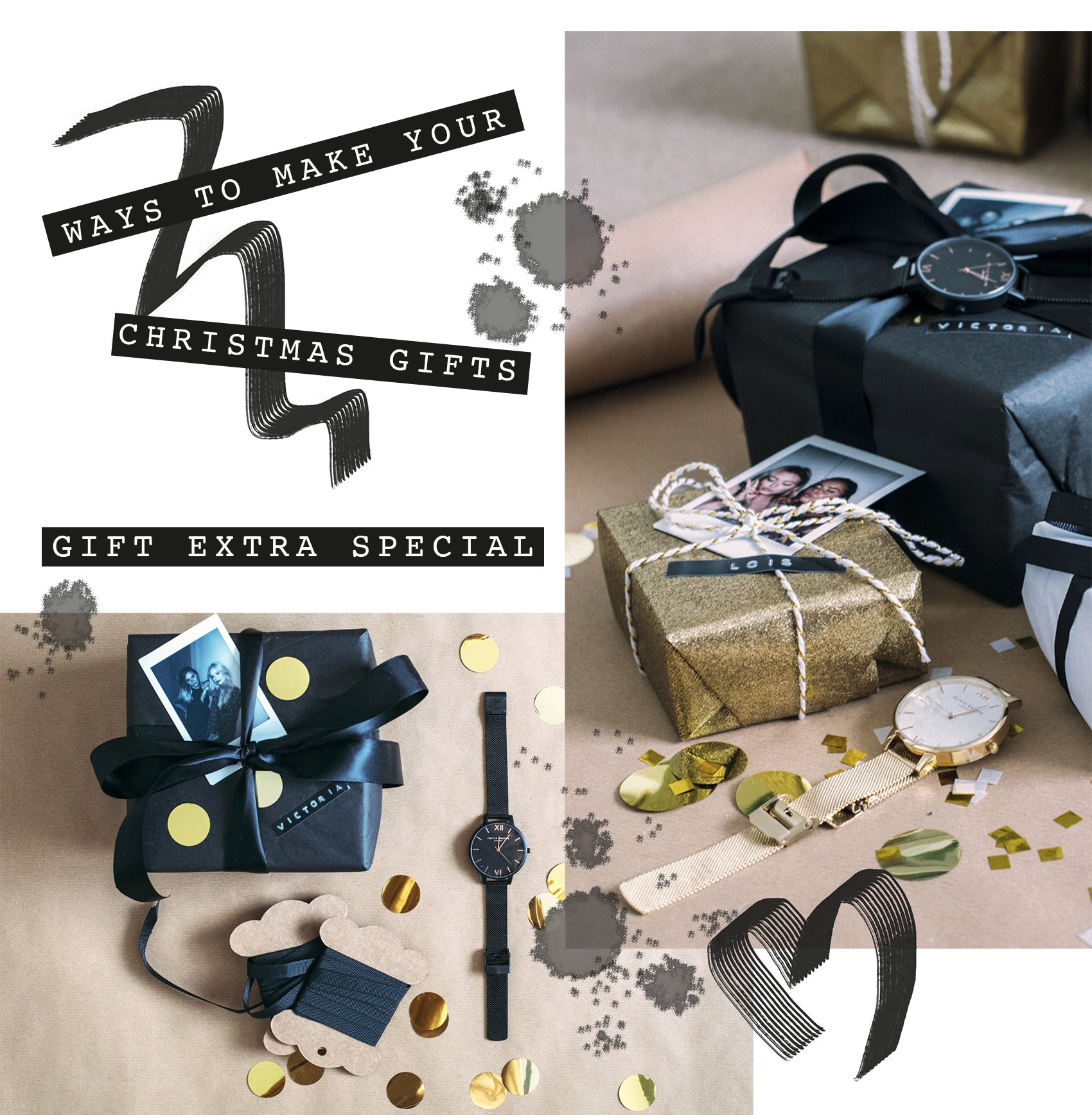 THE GIFT WRAP:
First up, take advantage of the brands that have gorgeous packaging and gift bags where possible. It does half the work for you. The Olivia Burton boutique in Covent Garden, for example, does the most gorgeous gift bags that look stunning under your tree. Then you can follow on with some of the steps below! If you do choose to go down the wrapping paper route, consider co odrinating the colour of your gift wrap with the gift. For example a black Olivia Burton watch (link here) would look incredible with a monochrome themed gift wrap, and a gold watch like the Gold Celstial Watch (link here) would feel extra special wrapped in gold paper. If you're looking to be more eco conscious this year, brown paper or news paper also makes a statement and is completely recyclable.
LABEL MAKER NAME TAGS:
I don't know about you, but name tags are a part of wrapping that I always overlook. Usually each gift ends up with a name written in pen... definitely a little room for improvement there. I love this idea for gifts, because not only do I have a label maker that sits unloved in my desk drawer, but it also looks so frickin cute! Especially combined with a monochrome or neutral gift wrap. In addition to names you could also write a message too which just makes the gift that little bit more personal.
POLAROIDS
Polaroids look so cute attached to gifts, you could almost use them as name tags, or just to add decoration, either way it's can act as a little keep sake in addition to your gift. What ever you decide to use as your gift tag though, a little message about why you chose that gift always makes it feel a little more special.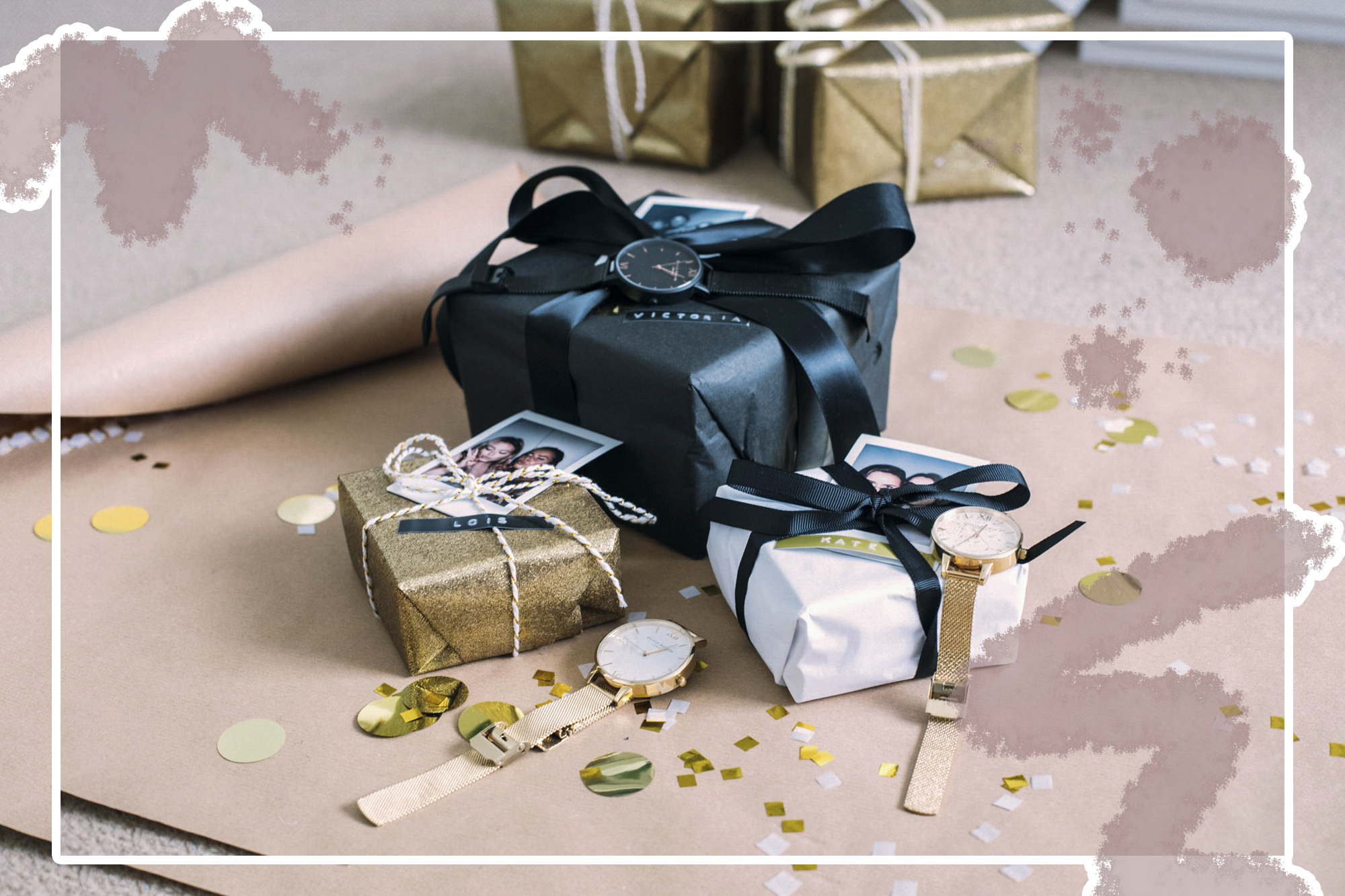 THE EXTRAS:
And then we have the extra boujee bits, they're not for everyone, but if you live for making presents look cute then this section might be a bit more up your street:
SCENT IT: A lovely smelling gift is always so lovely to receive, of course you have to be careful about the material of your gift and how you scent it though, so scenting tissue paper is usually your best option. Olivia Burton do this when you buy gifts in store and it's such a dream. Fun fact: they have their own bespoke scent they use for this and it is divineeeeee!
DECK YOUR GIFT: Adding small christmas decorations or sweets to your present is such a lovely touch. it's something that your giftee can use after too so it's not as wasteful as your traditional single use sticky bows.
So happy wrapping! If you fancy buying any Olivia Burton bits this Christmas then you can use the code HELLOOCTOBER. and receive an amazing Christmassy gift of their best-selling Celestial star bracelet with any order online, in the UK and over £75.
http://www.oliviaburton.com/uk/shop-watches/celestial-star-chain-bracelet-OBJ16CLB01.html#start=1&cgid=bracelets