2017.
I know I say this every year but HOW DID WE GET HERE?! Five minutes ago we were moving and the next thing I know it's bloody Christmas. This year has been a really positive one for me on the whole, though I got off to a bumpy start, I struggled so much less with my anxiety than usual, and there were a lot of personal triumphs and really proud moments for me. I think these successes, however big or small they might be, are always the main thing to focus on when you look back at the past year. No one's life runs 100% smoothly and it's so okay if the best you did some days was just getting through the day. Last year I definitely didn't tick off every goal on my list, in fact I'd go as far as to say I took some steps backwards in some ways, so this year I decided to focus on myself, and filling my life with people that brought me joy and made me feel emotionally rich. Looking back at these goals for 2017 I feel that I achieved these 100%. I haven't had the busiest most crazy year, but it's been a great one and I'm so much happier for it. So if you're in the same boat, don't stress. Focus on the positives and do what's right for you!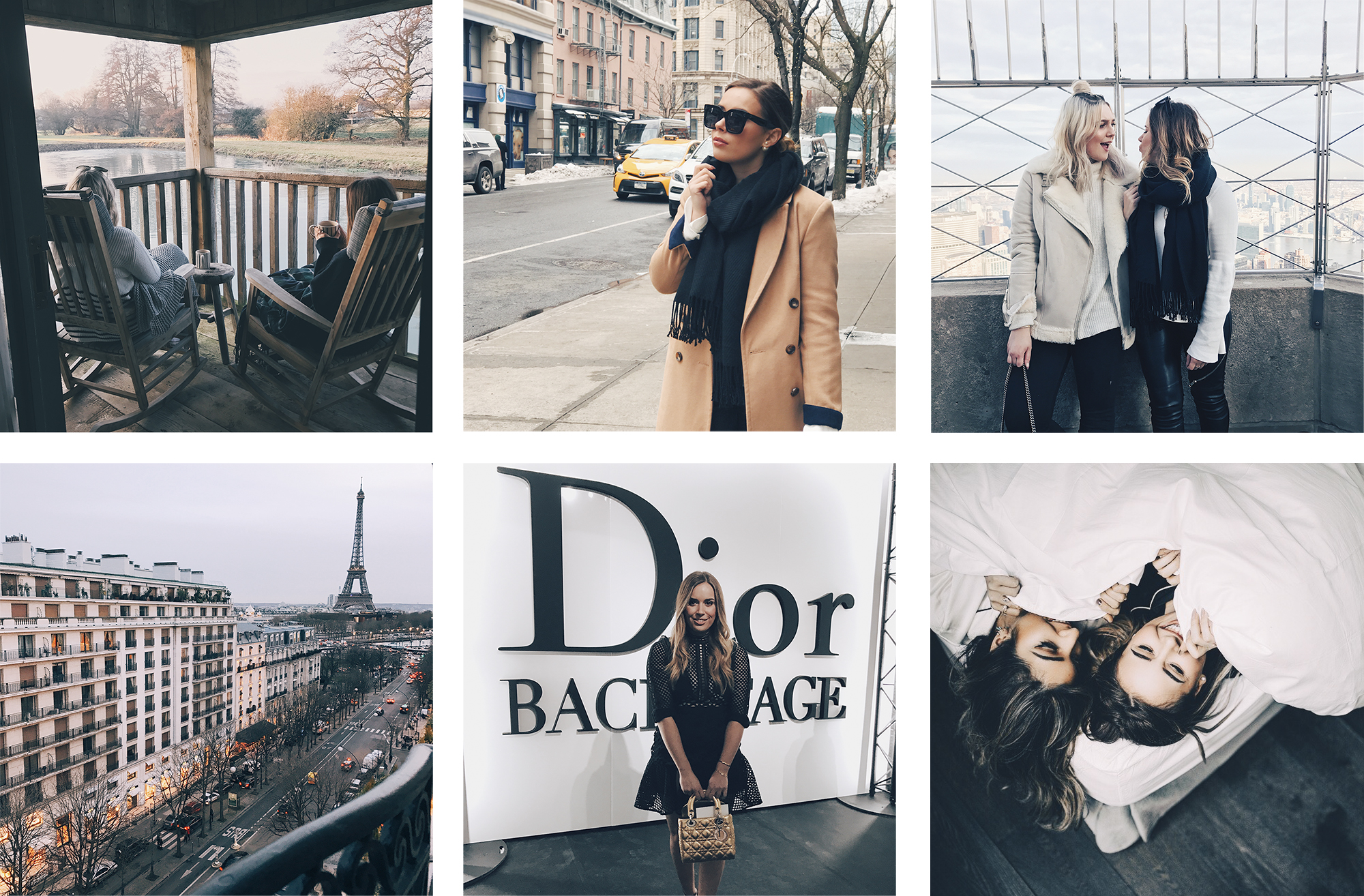 WINTER.
So January was QUIET. It was totally glorious and if you're going in to the New Year feeling overwhelmed, I totally advocate easing back in to things where possible. I focused on making videos, took an end of Jan holiday and went in to February ready to roll… Which was so needed because I flew to New York with Tresemme - yes this nervous traveller did a long haul flight and a four day stay away across the pond - I cried tears of joy and accomplishment on the drive back to Brighton as I'd been so nervous about this one. It definitely got 2017 off to a great start as I felt so confident with travelling after this!
Then we had fashion week - my most mental one yet - I worked with Topshop, sitting front row at their A/w 17 show, and the Estee Edit, and attended some incredible shows including Temperly and Mulberry. Things went from crazy to downright surreal as I then went backstage with Dior for their Paris fashion week show and spent a few days in Paris being spoilt by their wonderful team.
SPRING.
I returned from Paris early March and spent the next week or so prepping for my next trip. I worked with Nina Ricci on their new launch at Babington House and had the most amazing time with some of my favourite ladies on YouTube. Carly Rowena finally got to whip my but in to shape and I finally got to hang with Lucy and Lydia who are two little bundles of joy. I went home for 24 hours, swapped over my suitcase and then went to Disney Land Paris with Alix (Lucy and Lydia were also on this trip and spending what was almost the entire week with them was so much fun) for the DLP 25th anniversary. We got to experience DLP after dark (no queues - totally spoilt) and saw John Legend live! Truly magical, will never forget that trip as its probably one of the best I've ever been on! After so much back and forth in March, my diary for April was kept a little more quiet, but I spoke about my anxiety for the first time which had the most incredible response (thank you) and we drove to Frome for Josh's birthday weekend. It was the furthest I've driven outside of Brighton to date and I was so nervous, so another little personal accomplishment ticked off there! May saw me finish some work with Rimmel that had been in the works since the start of the year and things were kept pretty quiet as I was actually prepping for THE BIG MOVE.
SUMMER.
WE MOVED! In the first weeks of June we upgraded our tiny flat for a dreamy spacious house and I feel as though this was the tipping point for me in the year. Our lives no longer feel chaotic and cramped and I had space to eat sleep and create, which still feels like such a novelty, but in the same stretch it feels like we've always been here. There's been zero adjusting or trying to make it feel like home, from day one it just was home, it feels so right. The next month was a mixture of different projects and furnishing the new place. I got really into it and discovered my love of interiors. We also had this incredible heatwave through June and July, over which I spent most of that time working in our garden (got very brown) and I couldn't have been happier! I also chopped my hair off which had been a long time coming and I loved the change.
August was possibly one of my favourite months of the year, as I continued to spend the summer relaxing, working, gym-ing and furnishing our new home - more importantly, spent the summer anxiety free! - we flew out to Portugal for our summer break, and also did a day trip to Lisbon whilst we were there. I'm pretty sure this is the month I launched Hello October at Home too!
AUTUMN.
September saw us adding a new bundle of fur to our family - little Rory feels like she has always been here and has definitely altered the dynamic for the better. Alix and I hung out and got matching tattoos (after I went on a tattoo binge and got four in two weeks) and in October I Celebrated my 26th birthday with my family and friends! The next day I hit 400k subscribers on YouTube which was a nice little milestone after hitting 20k on my birthday back in 2013 - I feel like it was a sign or something...! We also had the most successful Vlogtober yet, raising some serious dollar for Charity as the ad rev is going to B.C charities via GIRL VS CANCER - epic! I flew to St Tropez with Clarins and went pumpkin picking too! I thought November would calm down but it ended up being full of big meetings and exciting things. Alix and I worked with Topshop for their "in Conversation With..." event at the Brighton flagship store - TOTAL DREAM and I loved every second. I visited the Cotswolds with Viktor & Rolf (and finally met the lovely Kate for the first time - one of my new favourite humans) and joined the lovely team at Gleam! I'm so excited to kick off 2018 with them, I have a feeling this next year is going to be epic!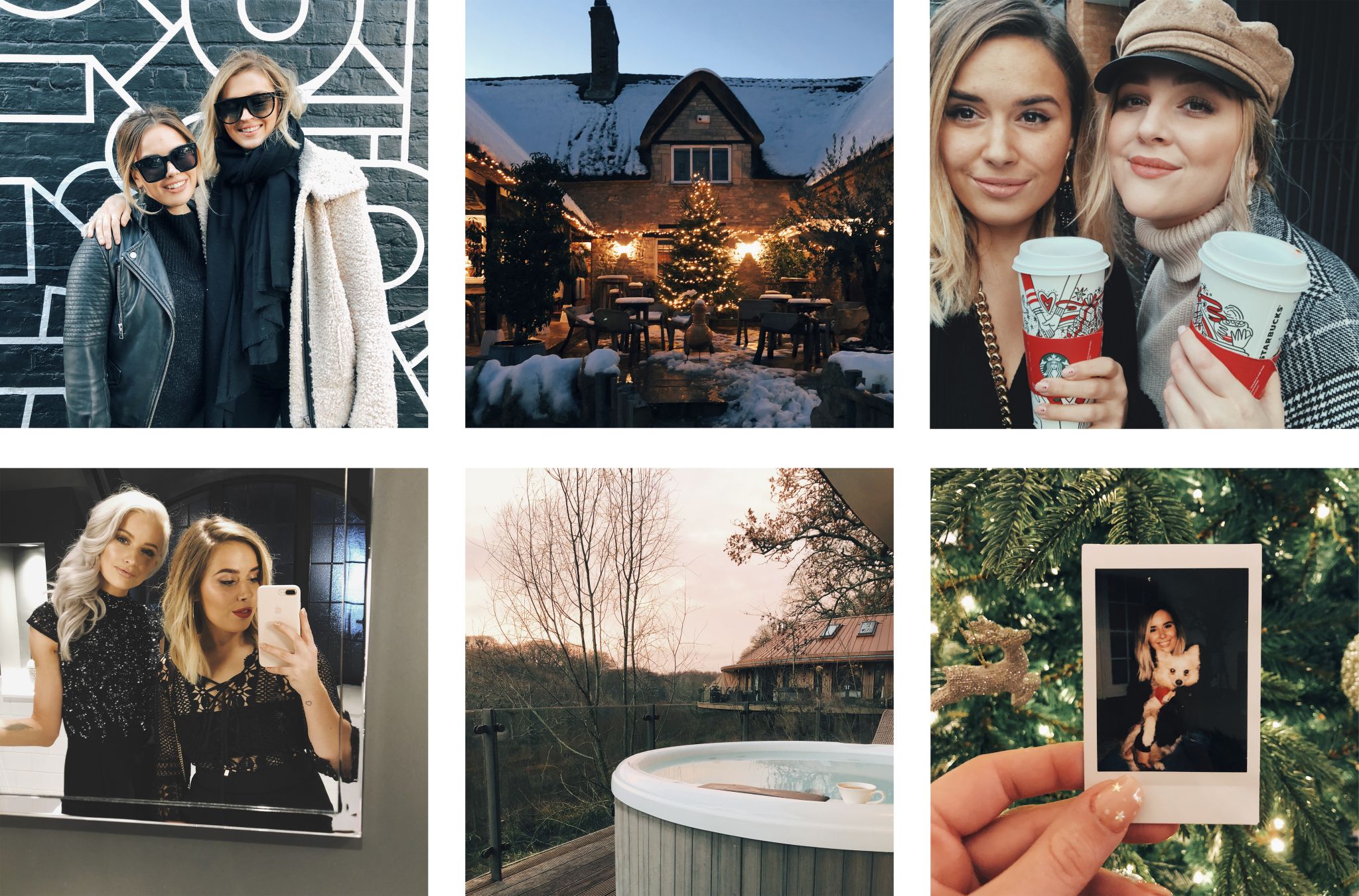 December got off to a very lovely start with a visit from the lovely Allana Davison (another new favourite human of mine!) I launched the new website which has been in the works for a while and I'm more in love with my blog than ever before! On the same day I started Vlogmas and did it as and when I wanted for the first time ever - to my joy and surprise it's been so successful and I'm over the moon about it. I went to Bicester village and stayed at the Artist Residence with the wonderful Liv and Carrie - a trip so good it's almost up there with the Disney trip! A week later I travelled from Oxford to Brighton to Chewton Glen in just over 7 hours all in the name of our 11th anniversary (more on our stay at Chewton Glen coming soon)! Returning home just in time to host Christmas at our house for the very first time. This month honestly feels like it's been the most jam packed in terms of social events, and I'm definitely feeling the consequences of that now, so expect the first few weeks of January to be fairly chilled from me! (Also given the fact I've spent the last few days knocked out with Flu - expect me to be VERY chill!)
Overall it's been an amazing year, and I'm so happy with the progress I've made. It's definitely been a year of growth, getting to know myself better, expanding my interests - fitness, realising I'm a crime/mystery novel kind of human, bullet journalling - all new obsessions of 2017! Striving for a better work/life balance has also been key. There's still so much I want to work on but the future is looking very bright indeed!