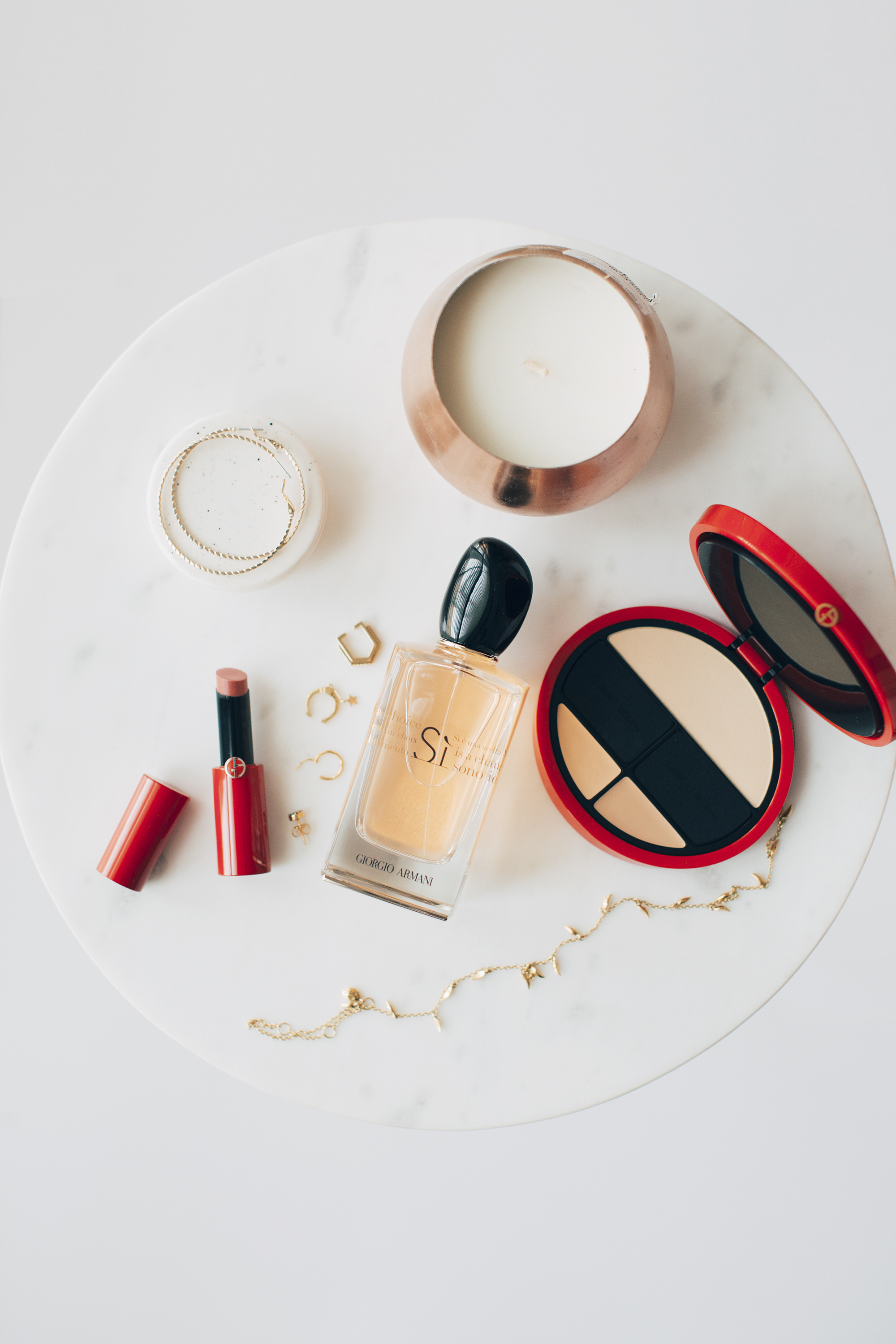 When it comes to my beauty routine, we all know I have a set go-to look. But what I've definitely spent much of 2017 perfecting is a go-to edit of easy, long lasting, and photograph friendly products - basically everything you could ever need for party season! So there's no better time to talk you through a few of my essentials  and favourites I'll be using over the next week or so...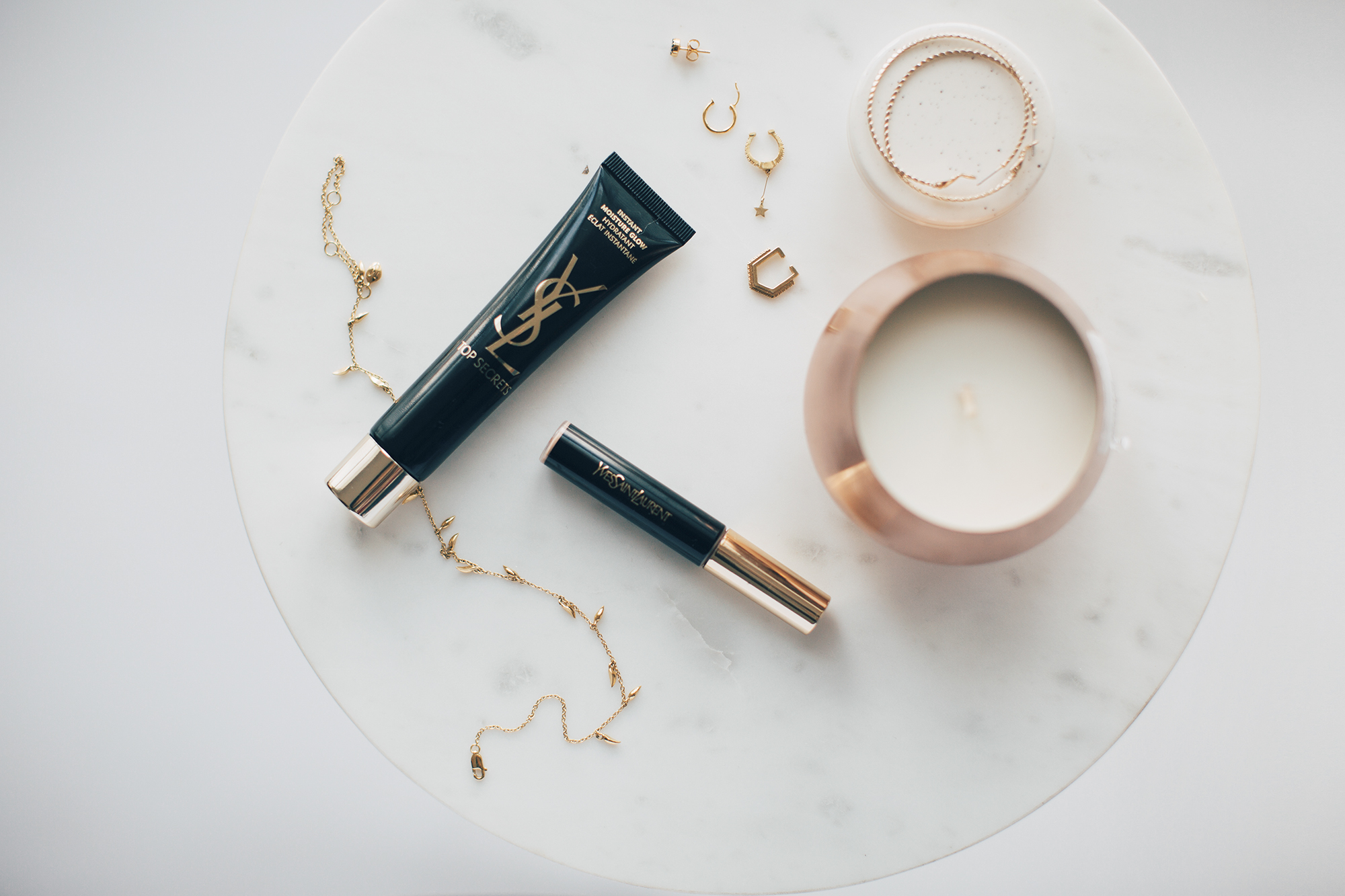 So let's start with your base! I always opt for something mega long lasting with great coverage for any special occasion. The Giorgio Armani Power Fabric Foundation is a current favourite, and applied with a tiny drop of the YSL Top Secrets Instant Moisture Glow underneath, I can't go far wrong. Top Secrets primes my skin and gives the illusion of a super smooth, even finish and really allows the Power Fabric Foundation to shine in photos. Both are amazing alone, but together they're a match made in heaven for photos. There's little chance of much redness or blemishes peeking through from under my foundation, but for the odd dark circle I dot a small amount of the YSL all hours concealer on to my skin and blend...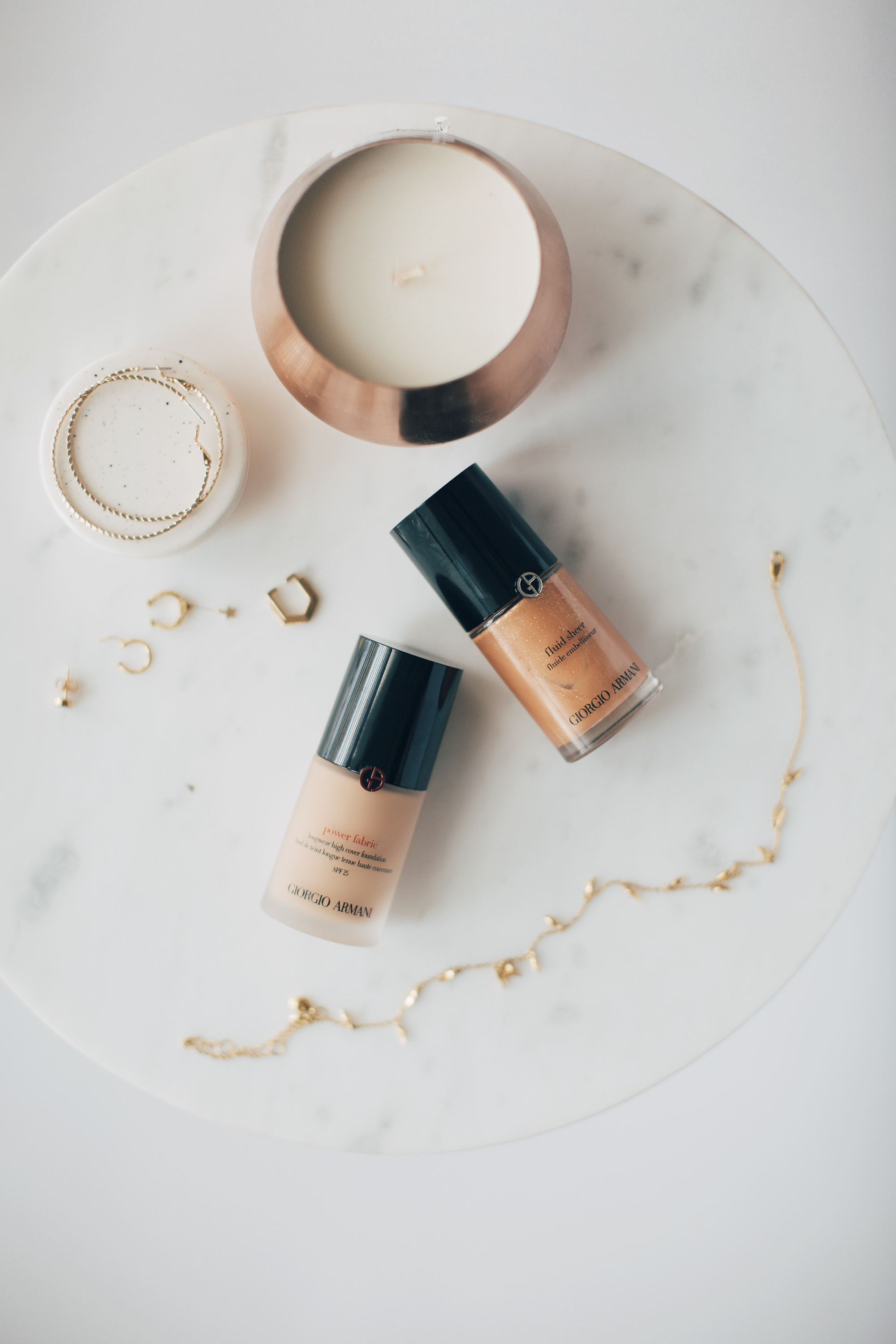 For a little added bronze and shimmer to my skin, a few drops of the Giorgio Armani Fluid Sheer works wonders tapped in to the high points of my face for that fresh faced, "straight out of the Maldives" look and of course I couldn't finish off glowing up my skin without the Glossier Haloscope highlighter over my nose and cheek bones. Speaking of cheek bones... The Kevyn Aucoin Scultping powder has recently wormed it's way back in to my life and I ain't mad. A dash of this through my cheekbones leaves me looking like I haven't just polished of the entire pack of mine pies and I'm grateful for that.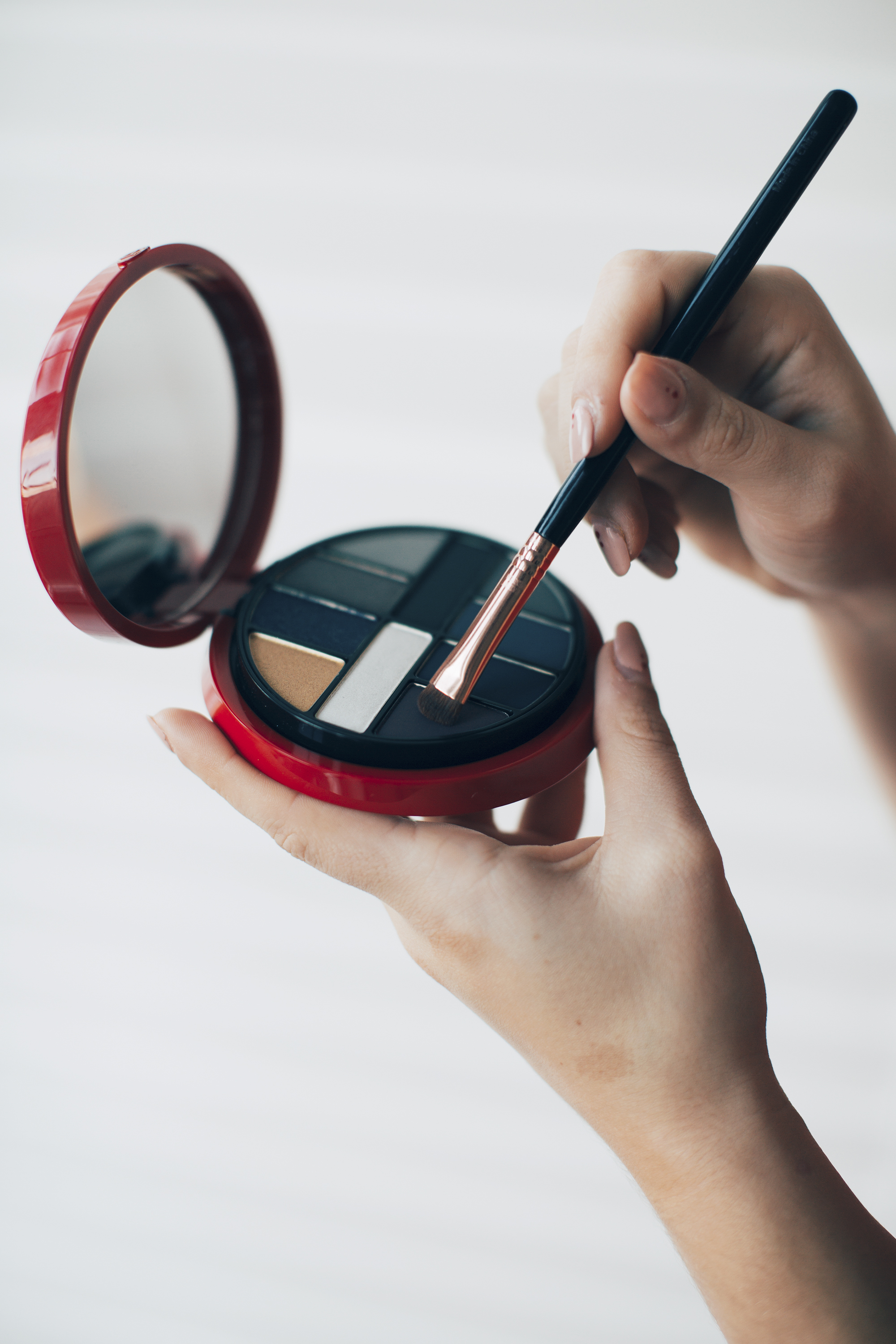 Oh and for eyes? Well this is where things are the same, yet different. I've recently taken to creating a smoky eye that's only intense along the lash line, no crease work. It gives this fluttery, full lash look, and when paired with eyeliner, I could full pass as having applied false lashes (which by the way I hate doing now so taking out that leg work is a Christmas miracle in itself).
One eyeshadow palette that's currently in my party makeup bag is the Giorgio Armani Holiday Eyeshadow Palette. It's an amazing, striking red palette that contains, ten eyeshadows on the first tier in various cool tone shades - perfectly winter appropriate - plus a powder and two cream concealer shades on the second tier below! 
I tend to use the deep mulberry or navy shade to blend in to my lash line, with a little of the cream concealer to cover any mistakes, and a little swipe of the powder across my eyes (to avoid creasing) and my t-zone to set everything in place!
To finish off my eyes, I apply a sweep of eyeliner - minimal or no flick - using the Tanya Burr Cosmetics Selfie Flick liner over my top lash line, and coat my lashes with the Dior Pump n Volume Mascara for a seriously intense lash look. 
As for brows? They're easy. The Clinique Super Fine Liner for Brows is the quickest way to get perfectly filled and sculpted brows. Now that it's winter I'm using the shade 03 Deep Brown for a bolder brow look which works wonderfully in photos too.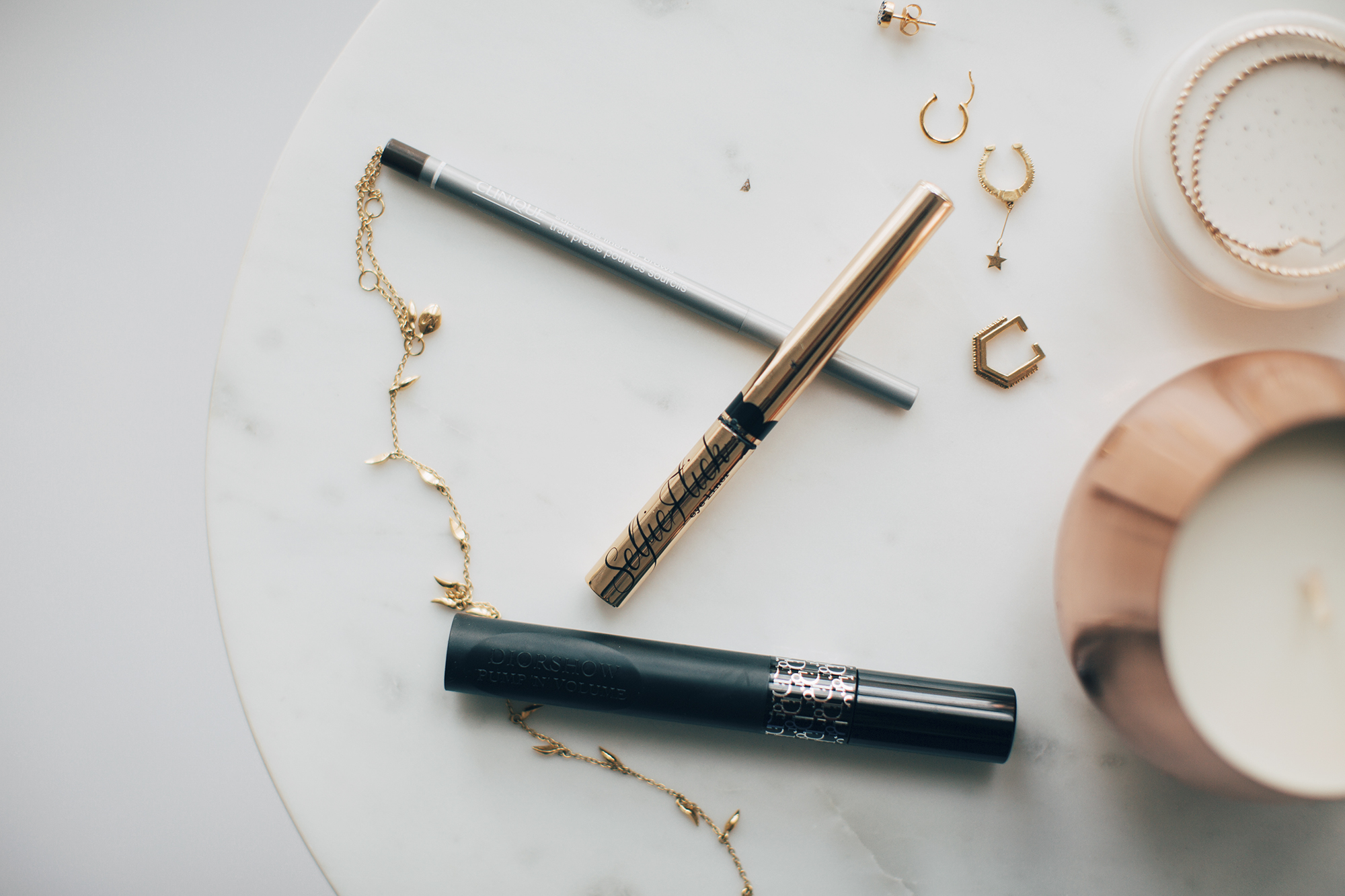 To finish things off I apply the Armani Ecstasy Shine in shade 100 (it's a nude, total shocker to you all, I know) to my lips. These lipsticks are long lasting but have a lovely nourishing texture and shine to them. 
Before I get dressed and ready to roll, the final step is to pick my fragrance. One that is a stand out in my collection for the pending festivities is the Giorgio Armani Si Nacre fragrance. If you're not familiar with the original fragrance, it has top notes of Sicilian bergamot, mandarin oil and liquer de cassis. Heart notes of rose de mai absolute, neroli absolute and Egyptian jasmine absolute. And base notes of patchouli oil, amber and vanille absolute. 
I'm a huge fan of Si, but this bottle really takes the biscuit as it's a shimmer edition - so festively perfect I may self combust right now. It leaves a beautiful shimmer on my skin and smells beautiful as always. It not only makes the perfect party fragrance, but a wonderful gift for someone you love too (a certain someone in my family may already have this under their tree this year)!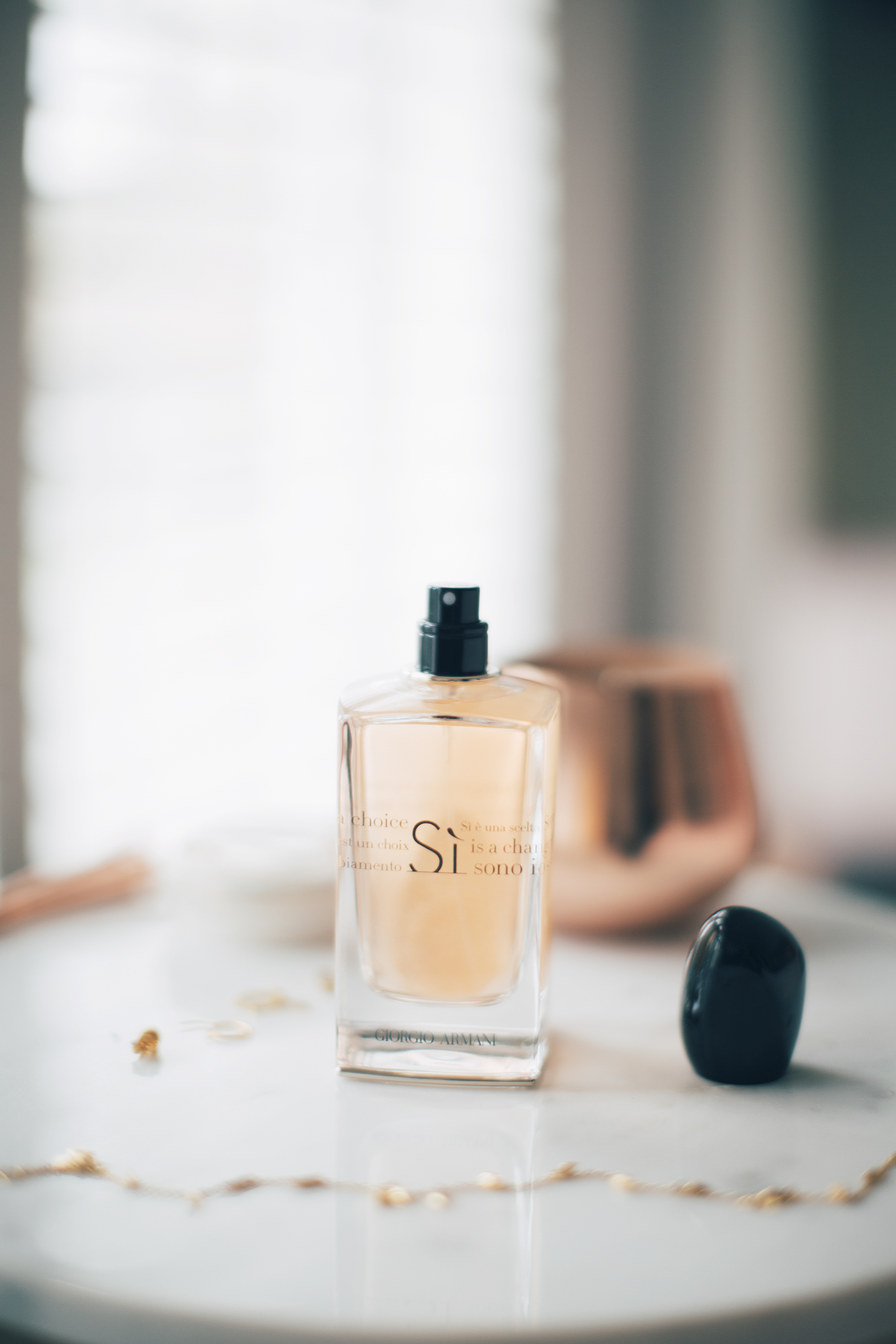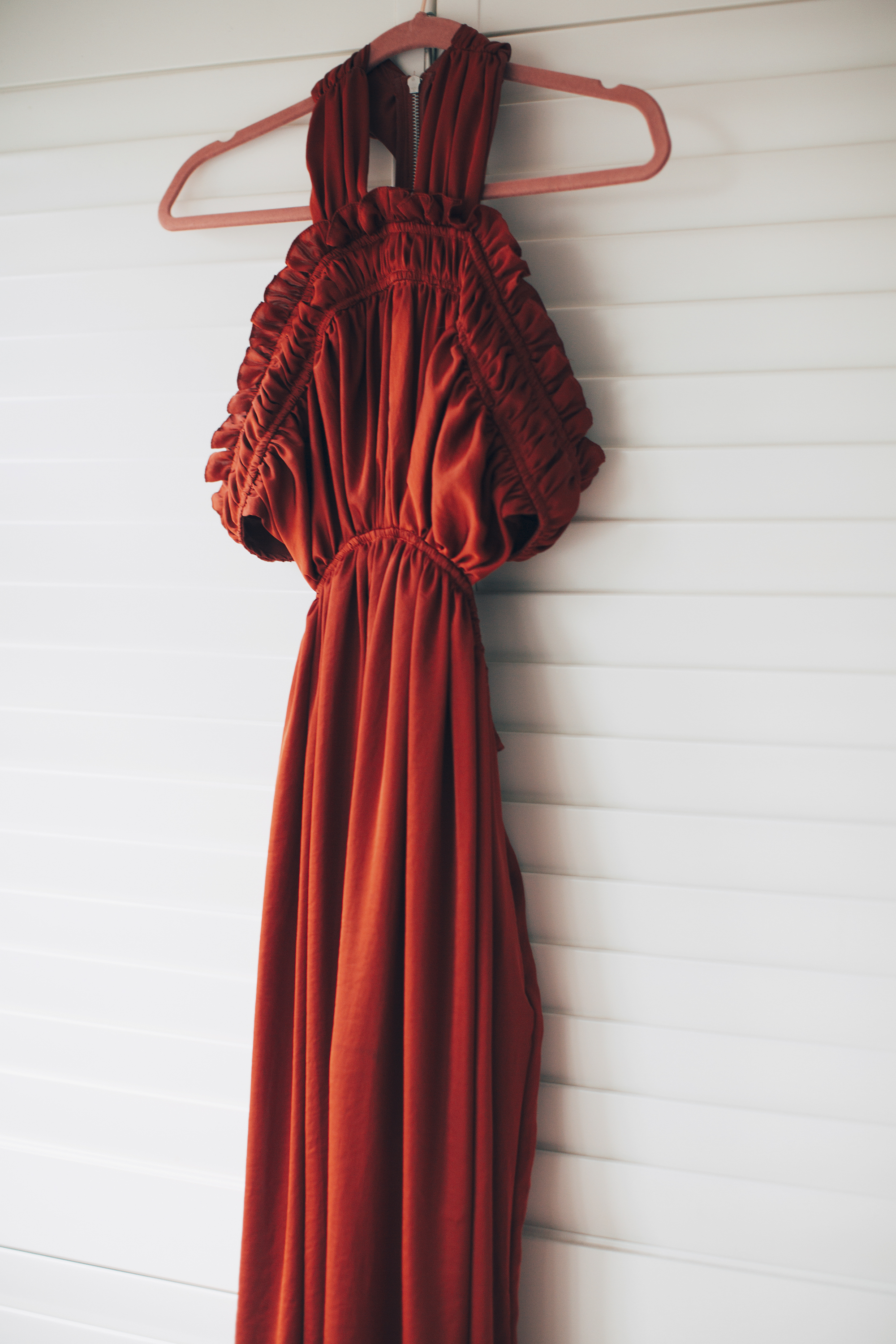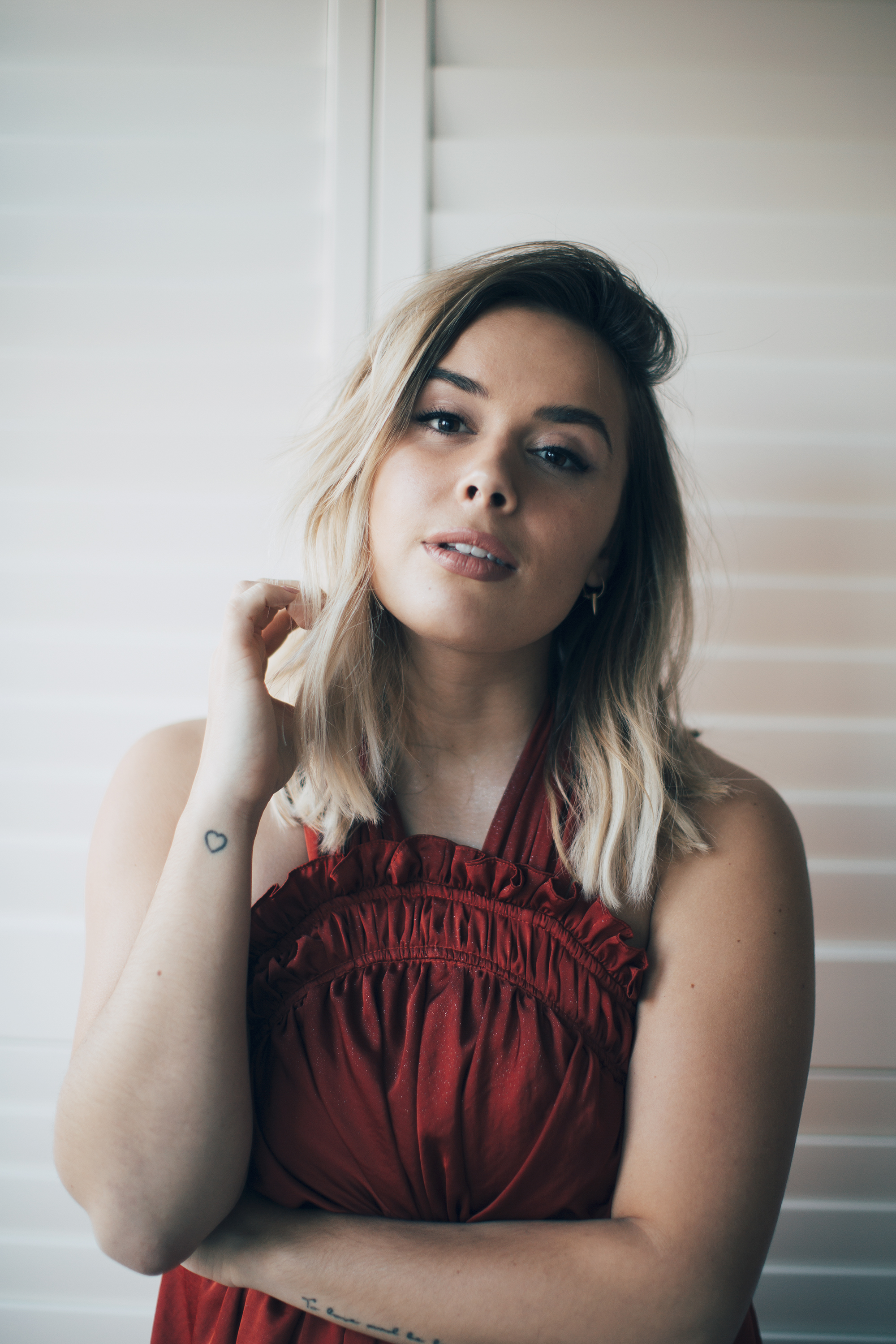 Et voila! All that's left is to pop on my best red dress and I'm ready to sparkle! If anyone needs me you'll most likely find me by the food with a mojito in hand, giggling away with the girls - my favourite way to spend a party! 
The best part is I'll barely top up my makeup, safe in the knowledge it's not going anywhere, so I can spend more time with my faves and a little less time touching up my face!
Don't forget to mention me on instagram if you recreate this look (@hellooctober) and most importantly, HAPPY HOLIDAYS! Hope you all have a magical time! 
*Contains paid product placement from the wonderful team at Giorgio Armani. Love of party chat and festive sparkle is all this girl!