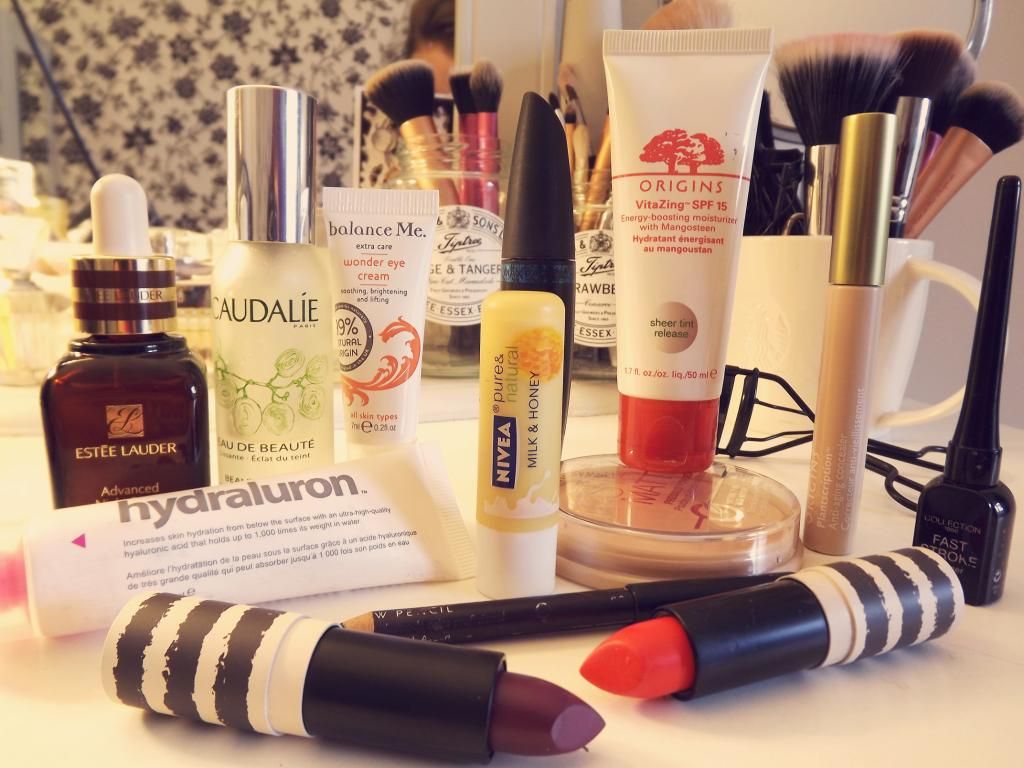 A few hours from now, I'll be being dragged out of bed after around 4 hours sleep and I will be off to Paris, that's right, I seem to be taking on France one city at a time! Our directors are taking us as our work Christmas treat and, although we're only there Friday and Saturday, I got fairly excited about the make up I needed to pack.
First things first: the Origins VitaZing moisturiser, perfect for disguising pale days, and bringing life to that "sleepless night" skin. The Maxfactor Waterproof Mascara is another firm favourite that's been thrown in – long lasting, voluminous curled eyelashes? Yes please. Up next, I need to disguise those under eye bags – the Origins Plantscription Concealer works a treat, and is wonderfully light weight so I don't feel caked in makeup (no need to feel worse than you do already on an early morning!) If I have time, the Collection 2000 Fast Stroke Liquid Eyeliner will be used to create wide awake, bright eyes, and the Rimmel Professional Eyebrow Pencil in Brown Black will shape my brows nicely. No pallets and angled brushes when traveling. If I'm feeling slightly oily, the Rimmel Stay Matte Powder is a dream to pop on to combat the grease. No chalky white residue either, score!
To take my makeup from day to night, my Topshop Lipsticks in Inhibition and Firecracker have been packed in the makeup bag. Depending on how I feel will depend which one I crack out, but i'm a massive fan of Inhibition at the moment for evening wear.
On the skincare front, I'm packing light, as I'll probably bring far too much back! The Estee Lauder Advance Night Repair is an absolute essential for me at the moment, and I've also thrown in some Hydraluron in case the cold weather causes my skin to take a turn for the worse. Although the warmer months are most definitely past us, the Caudalie Beauty Elixir has been thrown in to help fight any undesirable smells we come in to contact with on the Euro Star – god send! Finally, I've thrown in the Balance Me Eye Cream and the Nivea Milk and Honey Lip Balm for the ultimate eye and lip moisturisation.
That's the Paris stash for now, I can't guarantee it will stay this small. I'm guaranteed to thrown a million more things in there! I can't wait to show you all what I buy there, but for now, I'm afraid I must get packing. I hope you all have a lovely weekend, and i'll be back with the Sunday Post on… well…Sunday (Duh?!).