I know what you're already thinking, I'm no where near brown enough for Mac Mineralize Skin Finish Natural in Sun Power to sit naturally all over my face, and if you think that you are correct. But lots of people who followed my old youtube channel will remember me talking about the fact that I had a discontinued bronzer that I loved and couldn't find a decent alternative anywhere, as most bronzers -for example Hoola Bronzer from Benefit – only match my skin colour, and couldn't bronze my face to save its life. I need a seriously orange toned bronzer to get any natural looking colour to appear on my skin. I was initially interested in purchasing the Refined Deep Bronze from Mac, but since its been discontinued, that was obviously a no go… But anyway, I had some mac vouchers from my birthday, and whilst wandering around the store, I spotted the MSFNs behind the bronzers, and decided that they must make a suitable alternative colour-wise, and I liked the fact there was no shimmer what so ever.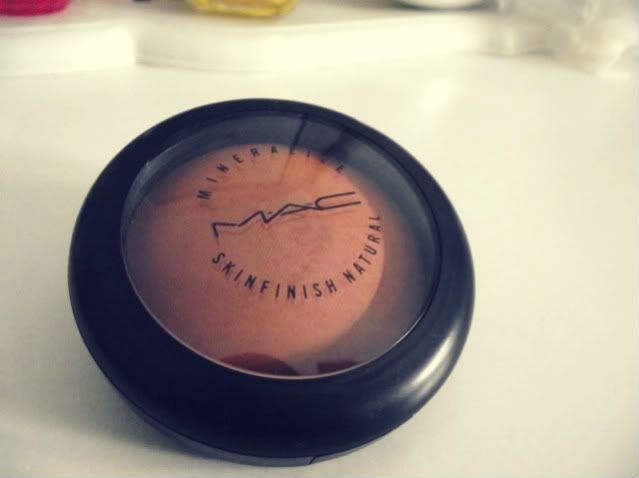 Mac Mineralize Skin Finish Natural – Sun Power
I purchased Sun Power, which is literally an orange powder, no questions about colour here, if you put too much of this on your cheeks, you are going to look like you belong on "Snog, Marry, Avoid" or an extra out of Charlie and the Chocolate Factory… However, I actually like the fact I don't need to use much of the product to get the desired glow on my cheeks as this is very bank balance friendly! I can already tell this will be a favorite of mine for a long time, and I might do a FOTD soon just to show how little is used and the sun-kissed glow it gives – and it really does! My window cleaner thought Id been on holiday again!
Does anyone else here have trouble with finding the right bronzers??? – Most of my friends are in the NC15-20 range and I'm NC30, so I seem to be the only girl in the world that has this issue right now!
Hope you all have a good weekend!
Suzie xo